Beltronics RX65i EURO
Not in stock
RX65i is exclusively tuned for use in European Union and it is the most advanced portable radar detector...
---
Recommended accessories
---
| | | |
| --- | --- | --- |
| | | 19,00 € |
| | | 29,00 € |
| | | 29,00 € |
| | | 29,00 € |
| | | 29,00 € |
---
---
This detector is no longer for sale, take a look at the successor: Escort Redline EX
---
Beltronics RX65i EURO
The most advanced windshield radar detector!
The RX65i is specially programmed for use in European countries. The RX65i is the most advanced windshield radar detector that Beltronics has ever developed. Radartest.com called RX65i "the tool of choice for the serious road warrior".
Beltronics RX65i Fuctions:
All Radar and Laser Band Coverage
Digital Signal Processing (DSP) Virtually Eliminates False Alerts
10x times better Range vs. Imports
Detection of new police Laser Guns
Best windshield mounted Radar Detector from Beltronics!
Beltronics RX65i EURO was developed in 2012 and is the successor of the well known and proven model Beltronics RX65e EURO. New RX65i is characterized by an even lower number of false alerts and significantly improved detection. This time it is the most sensitive radar detector on the market.
During the development was placed enormous emphasis on minimizing false alarms, it was developed in real traffic in the specific conditions of the Europe and gave it all parameters outperforms existing competitors. As a result, customers can be almost certain that you will hear when the warning signal is near a police radar or laser gun.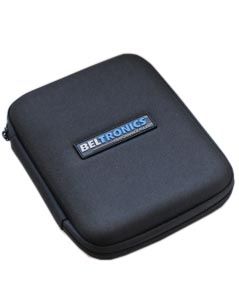 Detector Beltronics RX65i EURO will always provide adequate time for safe deceleration of the vehicle prior to contact with the police radar. There have been cases where Beltronics RX65i detect police radar up to a distance of one kilometer. This radar detector all parameters obviously outperforms its predecessor RX65e EURO.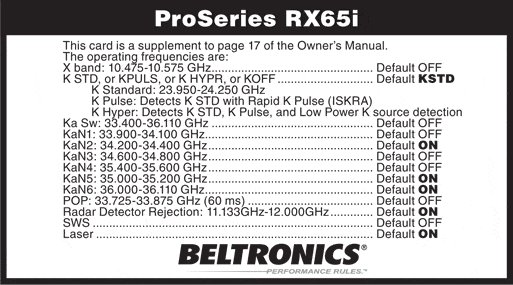 Photo gallery: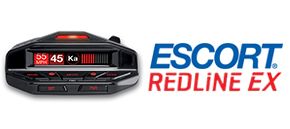 ESCORT RedLine EX International
Escort RedLine EX is a new successor of the RedLine Intl. Bigger, Better with GPS Database...