LaserTrack Flare
In Stock
Ultra-compact laser sensors and outstanding performance, that is LT Flare
---
---
LaserTrack - Flare is the LT400 successor and an ultimate weapon against laser guns
Based on infrared laser technology
Infrared laser systems with a wavelength (frequency) of 904 nanometres are used on a worldwide scale for measuring distance and speed, because of their exceptionally narrow beam and a high degree of insensitivity for atmospheric circumstances. The advantage of an exceptionally narrow beam, the laser beam, is that an object, for instance, a car, can be 'pointed at' with great precision at a distance of hundreds of meters. This way, within a fraction of a second, distance and speed can be measured. This is all done entirely invisibly as the infrared beam cannot be identified by the human eye. The best-known laser systems are the laser guns used by the police to carry out speed enforcement.
A flawless distinction between different laser systems
The highly sophisticated and ultra-compact LaserTrack Flare is, for reasons of integrity, equipped with the same technology as that which is applied in the police laser guns, offering you, as a user, a great advantage. The system makes a flawless distinction between the signals of its own remote control-transponders, the many laser-safety devices* and alternatively the police laser guns.*, for instance, laser-cruise-control systems
Contributing to a comfortable and pleasant way of driving
Opening the gate of your garden or garage door is done fully automatically by LaserTrack Flare. You do not even need to push a button! As soon as your car comes within reach of the garden gate or garage door, the necessary access code is exchanged automatically and the gate or door will swing open. For safety reasons, the system makes use of more than 4 billion codes and up to 50 different vehicles, each with their own code can be programmed into the system.
En route LaserTrack Flare recognizes other road users using laser-safety devices without giving notification. LaserTrack Flare does not interfere with these safety devices. Whether or not the speed readings of police laser guns are detected or even prevented, depends on the settings selected by the user.
Remote control
Ex-factory, the LaserTrack Flare functions exclusively as a remote control. This mode is allowed anywhere in the world. An audible and visual warning on the display indicates that the remote control mode is active.
Laser speed trap detection-mode
This mode is allowed to be used virtually anywhere in the world. Please bear in mind that this mode is not substantially protective. A laser gun needs less than half a second to measure the speed of a vehicle. If LaserTrack Flare alerts you in such a case, there is no time left to correct your speed. An audible and visual warning on the display indicates that the laser speed trap detection-mode is active.
Laser speed trap protection-mode
This mode is not allowed in most European countries. If the protection mode is activated, it is important to be aware that the protection against the police laser gun is of a temporary nature. This should give you enough time to, if necessary, adjust your speed. An audible and visual warning on the display indicates that the laser speed trap protection-mode is active and, as such, no laser gun speed reading can be performed.
Virtually invisible mounting of the front- and rear transponders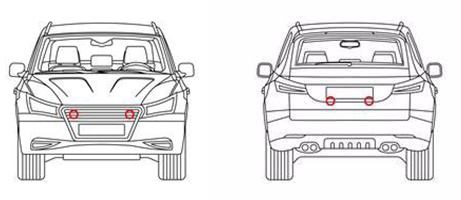 The exceptionally compact front transponder can be mounted virtually invisibly in your vehicle's grille by a specialist, regardless whether you need one or two or perhaps even three. With the patented design for the rear transponder, we even introduce world-class news! Never before did a manufacturer of similar equipment succeed in integrating a transponder in the license plate frame. An absolute must for anyone who doesn't want to violate his vehicle's design! The rear transponder is delivered, completely installed, in the license plate frame.
Inconspicuous mounting of the display in your vehicle interior
The minimal display of LaserTrack Flare, again the smallest of its kind by far, ensures timely audible and visual alerts in your car and is designed neutrally, yet stylishly. Optionally the display can be positioned completely out of sight inside an existing space in the dashboard.
Easy to install
The LaserTrack Flare transponders make use of a network-protocol and are interconnected. As such they are really easy to install by one of the specialized LaserTrack Flare-dealers. This saves a significant amount of time and costs.
Other distinctive advantages of LaserTrack Flare
The smallest, fastest and most robust transponders in the world. Each transponder has its own 32bit 180MHz processor for unrivaled performance.
Highly sophisticated lens systems with IR pass filters, developed in collaboration with leading optical specialists.
In combination with special internal reflectors, these lens systems guarantee maximum light amplification and an optimal aperture angle for the receiver of the transponder.
The transponder casings were made by use of a thermal casting process which, for instance, ensures complete waterproofing and vibration resistance under the most extreme circumstances.
Easily updateable via the web application by use of the SD card.
Different system settings can be selected by the user via our web application.
Photo gallery: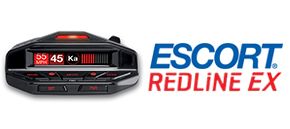 ESCORT RedLine EX International
Escort RedLine EX is a new successor of the RedLine Intl. Bigger, Better with GPS Database...