Escort RedLine International
Not in stock
Dual Antenna
MultaRadar CT and CT detection
Digital Signal Processing (DSP)
Invisible towards RDD
---
---
---
This detector is no longer for sale, take a look at the successor: Escort Redline EX
---
Escort RedLine International
RedLine's new twin antenna design provides an all new level of radar performance. Tuned specifically for each radar band, this approach enables RedLine to deliver the longest possible warning on all radar bands, including the latest "POP" mode.
Ka Segment Adjust
Ka Segment Adjust allows you to select which segments of the Superwide Ka band are scanned by RedLine. Radar Detector Rejection (RDR) minimizes false alerts by rejecting alerts caused by other nearby radar detectors. Toggling RDR off will increase radar detection performance with potentially more false Ka alerts.
Traffic Sensor Rejection
The PASSPORT RedLine includes our proprietary Traffic Sensor Rejection (TSR) software to eliminate false alerts.
Next Gen Laser Detection
RedLine's multiple laser sensors are strategically positioned to detect even the smallest amount of laser light, including off-axis signals.
Clear Voice Alerts
RedLine's easy to understand digital voice alerts keep you informed without taking your eyes off the road. totalshield icon.
TotalShield technology makes the RedLine completely invisible to radar detector detectors. If you need complete stealth operation, RedLine delivers it. brightness icon.
Brightness Control
RedLine has four levels of brightness, including automatic which adjusts the display brightness based on the ambient light in the vehicle. You can also select full dark mode and use the power-on and alert indicators on the SmartCord for complete stealth operation. mute and automute icon.
Mute and AutoMute
RedLine comes with ESCORT's AutoMute feature, which automatically reduces the volume level during an alert. Or, simply press the Mute button on the detector or SmartCord (included) during an alert to instantly quiet the audio.
Photo gallery: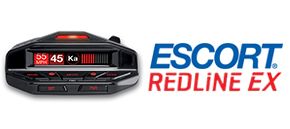 ESCORT RedLine EX International
Escort RedLine EX is a new successor of the RedLine Intl. Bigger, Better with GPS Database...